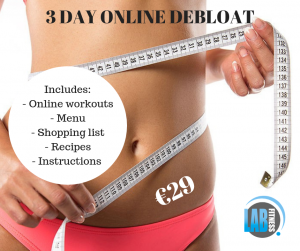 Christmas is literally just over and with the New year around the corner many of us are already focusing on those (in)famous New Year resolutions. Some will aim to give up smoking, others to pick up a new hobby, but dropping a few pounds still remains the top choice.
If you have survived the party season with your belly button in the same place where it was at the beginning of December… WELL DONE!! If however you find yourself searching for your emergency pants (the baggy ones) then YOU ARE NOT ALONE. 

I have designed this 3 day debloat as an easy way to give your body a helping hand after all the overindulgence. Whether your goal is to lose weight, gain energy or restore your digestive system, this will help you achieve it!

Programme is valid for 1 year and includes:
– 3 online 10 min workouts
– 3 day menu
– recipes
– tips
– ingredient list
– instructions