We have been running our NON COMPETITIVE GYMNASTICS classes for 5 years now. After struggling to find an activity without grading or exams for my son, I decided to create something a bit different. As a mum I understand some kids thrive with competition (I did!), but many others are not comfortable with it and many times they end up not enjoying the activity itself. For this reason we started our friendly and fun gymnastics classes.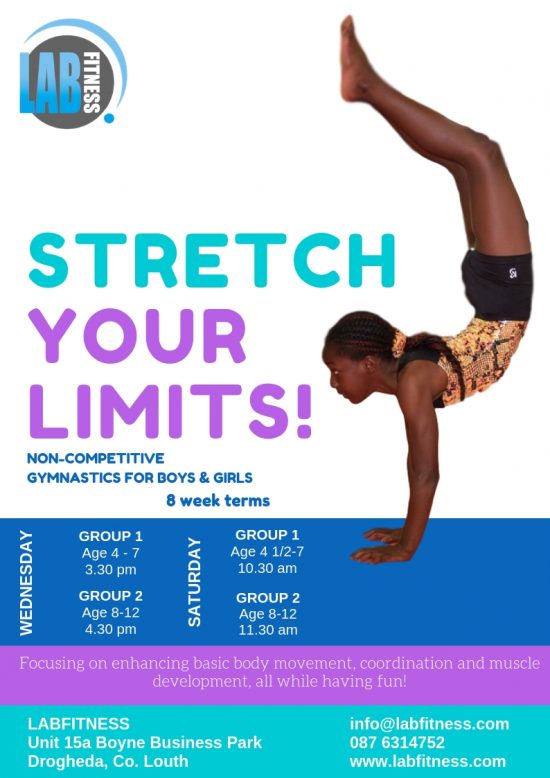 The classes consist of a fun warm up,  followed by stretching and body conditioning.   Then we work on basic floor gymnastic skill like, tumbles, cartwheels, headstands etc. and we progress as the child progresses.
Sometimes we mix in some fitness games, especially with our younger gymnasts.   This is a super class for fitness, flexibility, strength and personal achievements.
There are 2 age groups:
–  4-7 year old
Wednesdays @ 3.30 pm (1 hour)

Saturdays @ 10:30 am (1 hour)
– 8-12 year old –
Wednesdays @ 4.30pm
Saturdays @ 11.30 am
DISCOUNTS ARE AVAILABLE FOR SIBLINGS AND KIDS ENROLLING IN MULTIPLE COURSES.
IT IS ESSENTIAL TO BOOK THE KIDS CLASSES IN ADVANCE.
087 6314752
Please note the classes run in 8 week terms and pay as you go is NOT an option. NEW START DATE 4 & 7 SEPTEMBER 2019