Protocol Guidelines for returning to class at LABFITNESS
1 – Please book class in advance – at least 2 hours before class – you can book via the website (CLICK HERE), by text (0876314752) or Facebook page.  We will contact you back to confirm booking.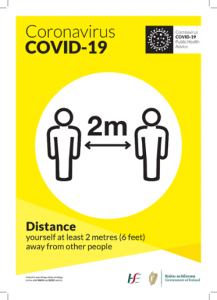 2 – Please cancel 6+  hours in advance if you cannot attend class as there may be a waiting list, so please try to just book classes you know you can attend. I have no access to phone/email after 5pm as I'm in class.
3 – Please bring your own mat, towel and water for HOT YOGA. You can still rent a hot yoga towel at the studio. Also remember to bring a face towel to dry excess sweat. We will provide fitness mats for all other classes but please remember to always bring a towel.
4 – The main door to the premises will open 15 minutes before class but please consider arriving close to the start time of class. Always allow the previous class to leave the building before you enter.
5 – You can pay cash or card at the desk.
6 – Please use the automatic hand sanitizer outside the building (to your right) before entering LABFITNESS. There will be one more in each studio and at the desk.
7 – You still need to sign into every class at reception BEFORE the class (not after). You are welcome to bring your own pen, or use the one provided (there will be antibac wipes to clean it)
8 – Please arrive dressed for class if possible. Avoid bringing big handbags/gymbags if you can. Small items like keys and wallets can be placed at the end of your mat.
9 – Door handles, banisters, desk will be disinfected multiple times throughout the evening.
10 – Spaces will be marked out on the studio floor with tape– Place your mat/step/bike within the marks so we can keep the 2 metre distance.
11 – Please remain on your mat/bike/step before and during class.
12 – Please always leave the room individually maintaining a 2m distance from others and remember to disinfect the equipment you have used with the products provided.
13 – Please only come to class if you are feeling well. Do NOT come to the studio if you are feeling unwell or if you have any of the  symptoms of COVID 19.
14- In the bathroom please use blue roll to dry your hands and discard it in the bin provided. DO NOT FLUSH it down the toilet as this will block the drains.
15 – Remember to be especially mindful when using doorways.
16 – Please be self responsible and in the interest of everyone's safety be familiar with and follow the Government Guidelines.
I look forward to seeing you all back at class.
Note your safety and well-being will be at the forefront of our minds. There will be a strict hygiene protocol adhered to at all times.
Please print and fill the COVID SCREENING FORM    and the FITNESS PAR-Q FORM your first day back to class